Ask the Expert with Pastry Chef Connor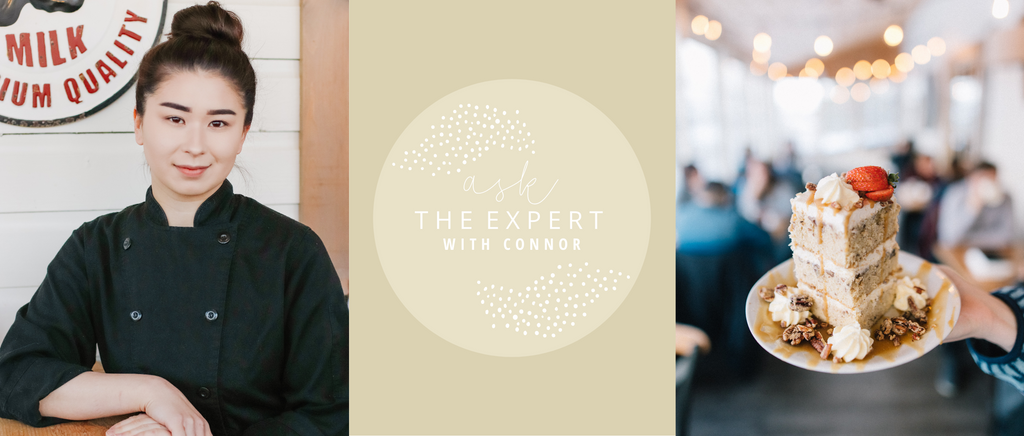 ASK THE EXPERT
WITH PASTRY CHEF CONNOR
We are so lucky to have Connor as part of our team! Connor has been the creative behind all of our desserts for the past two years. She is always finding ways to bring in unique flavours into her dishes, from scones to desserts, she always has something unique to try! In continuation of our Ask the Expert series, this month we sat down with Connor to get a little insight into what it is like to be our Pastry Chef! We hope you enjoy the interview as much as we did!
Why did you become a pastry chef?
I have always had a sweet tooth! More than that, I have always enjoyed baking for others. So I think for me it was a no brainer that this was the right career path!
What is your favourite dessert to eat?
What is your favourite thing about cooking & baking?
I have two favourite things - one is all of the tasting along the way! The second is that there are always new techniques to learn and try because it is such an innovative industry and it always keeps you on your toes!
What is your favourite pastry to make?
Anything chocolate! I am a chocolate lover so super chocolatey desserts are always the most fun for me. Moreover, chocolate is a really fascinating compound. It's extremely versatile and can take many forms in food.  Keep an eye out for a new dessert hitting the menu for the holidays! It's for all my chocolate lovers out there!
What are your tips for perfect macaron shells?
For me, it starts with the meringue. I always use an Italian Meringue for my macarons. Macarons can be so temperamental. The best advice I can give is practice, practice, practice! You can also keep an eye out for our macaron classes as well!
How do you avoid getting chunks in your lemon curd?
I strain everything! Especially cooked liquids and sauces that contain eggs. This will give you super smooth lemon curd. You can also try cooking your favourite recipe over a double boiler to ensure the egg doesn't get over cooked.
What is your favourite thing about working at Pineridge Hollow?
It's hard to name just one! I really enjoy the ability to change the menus as we shift through the seasons. It gives us the ability to highlight and appreciate the flavours that are in season at that very moment before we are on to the next.
In this edition of Ask the Expert, we thought it would be fitting for Connor to share one of her favourite recipes from her personal cookbook! This time of year is great to show others how much you care about them and what better way than with a tasty pumpkin loaf! Hear what Connor has to stay about this recipe!
This recipe for Pumpkin Loaf is super easy to make and tastes amazing! We use it often in the restaurant in the fall and guests and staff go nuts for it! This recipe can be used to fill two 8" round pans if you would like to make it into a cake as well. It pairs great with cream cheese frosting, or spiced vanilla buttercream! The pumpkin loaf keeps quite well tightly wrapped in the freezer so feel free to make a double batch, for yourself or your loved ones!
Chef Connor's Pumpkin Loaf
Pumpkin Loaf Yields 1 Loaf Pan / Two 8" Cake Pans 
Ingredients
287g Flour 
5g Baking Soda 
Pinch Salt 
3g Baking Powder 
7g Pumpkin Spice

325g White Sugar 

105 mL Canola Oil 
2 Eggs 
255g Pumpkin Puree 
80 mL Water

1) Preheat the oven to 350F. 
2) Prep the pan(s) by spraying or brushing with oil and coating lightly with flour. You may cut a piece of parchment to fit on the bottom of the round pans or a strip of parchment that runs along the bottom and all the way up the two sides of the loaf pan for easy lifting. 
3) Measure out all of the dry ingredients and sift into a bowl together. Set aside. 
4) Combine the Eggs, Sugar, and Oil in an electric mixer fitted with a paddle attachment, or a mixing bowl and mix by hand with a whisk. 
5) Add the Pumpkin Puree to the bowl and mix again. 
6) Add the dry ingredients to the mixing bowl and mix slowly. Scraping down the sides of the bowl to ensure even mixing. 
7) Add in the water last, continue to mix and scrape down the sides of the bowl until the batter is smooth and evenly mixed. 
8) Transfer batter to the desired baking dish and place in the preheated oven. For loaf pans, bake for approx. 90 minutes, or until a toothpick comes out clean. For cake pans, bake for approx. 25 mins or until a toothpick comes out clean from the centre, and the cake springs back after slight pressure is applied. If a convection oven is being used, rotate your pans halfway through for even baking. Allow to cool slightly before removing from the pan(s). 
 ** Feel free to add your own finishing touches to the loaf before or after baking whether it be sprinkling with chopped nuts, adding a cream cheese swirl, or glazing it and topping with toasted pumpkin seeds or candied ginger!
We hope you enjoyed our interview with Connor as much as we did! Keep an eye out for our new holiday dessert menu coming out SOON!