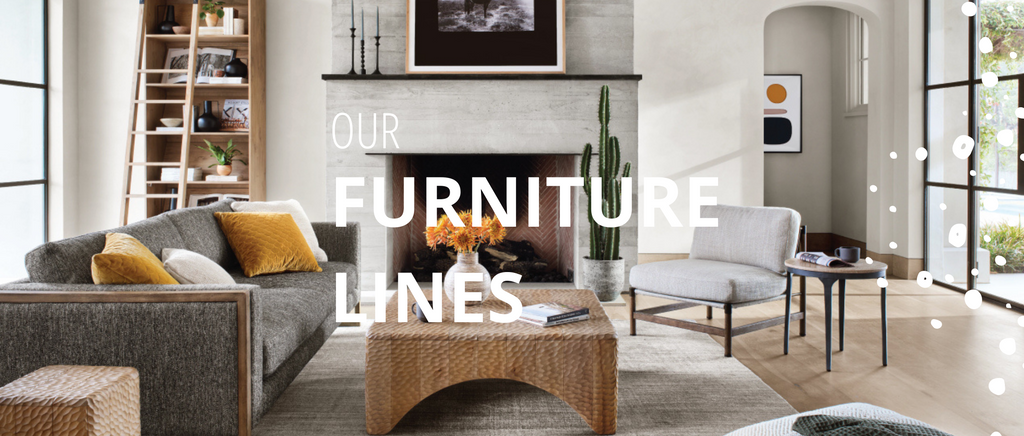 If you're looking for a new furniture piece (or two...or three...) you might be wondering where to begin. To get you started, we've compiled a list of furniture companies that we carry in the store and why we love them! If you need some help finding the perfect fit for your home, email furniture@pineridgehollow.com or call 204 777-3881 ext 125. Also, find links to all of the companies' websites below for more information!

Lee Industries

Lee Industries is celebrating 50 years as a leader and innovator in environmentally friendly manufacturing practices. The company supports communities and the environment by using high-quality recycled materials and working with master craftsmen and women. When you buy from Lee, not only are you adding a lasting piece for your home, you're making the world a greener place.
Décor Rest

Décor Rest has grown to be a prominent furniture force in Canada. Gaining recognition internationally for their dedication to delivering quality furniture and customer service. Their ongoing product development explores leading edge design with a commitment to crafting fine furniture.
Canadel

Canadel is a family-owned company, proudly making furniture since 1982. Their mission is to create furniture with such structural and stylistic integrity that it lasts generations. The Deveault family has made Canadel a company that believes in honesty and integrity, and doing so has allowed them to grow and prosper. 
 To check out their custom designed furniture options please use the following log-in information:
Website: pineridgehollow.udesign.ws
Username: info@pineridgehollow.com
Password: Furniture1
Four Hands

Four Hands invites us to take a look around. Think of it as a design journey: gathering new inspiration and fresh perspectives from the trends, materials and styles they've sourced from around the world. Started by young husband wife team, 25 years ago, who loved to travel and pick up pieces with their 4 hands. Today the concept of hands touching, selecting, making the pieces is still very much a part of this company's values. We find this a great place to find those items on your inspiration boards.
To shop their collections online please use the following log-in information:
Website: fourhands.com
Username: furniture@pineridgehollow.com
Password: pineridge
Mercana

Mercana has been a favourite of ours for years! As a "design-first" company, they produce unique pieces for the home each season; most noteworthy wall art, furniture, lighting and home decor accessories. Many of our stunning showroom pieces come from this company and they remind us to finish the space!
To shop their collections online please use the following log-in information:
Website: mercana.com
Username: pineridgehollow@mercanaguest.com
Password: Pineridge
Uttermost

Uttermost brings us those unique details. They specialize in quality materials and loves to bring you fashion forward products season after season. Offering everything from furniture to wall decor to lamps and accessories, there is always something new and exciting coming from this staple brand in our showroom!
Loloi Rugs

Loloi has been so much fun to work with these past couple of years.  They believe in the thoughtfully layered home and that the best spaces come together with intention. Craftsmanship is something worth committing to, and a good rug does more than tie the room together - it sets the home apart.
Bramble Co.

Bramble creates beautiful artisanal furniture with no harmful chemicals. Each piece in the variety of Bramble Furniture's collections are customizable to your personal style and aesthetic. Choose from over 100 custom finishes that varies from solid colours, premium distressing and artwork. Their artisans will hand paint and carve each specification according to your order. We bring your customized treasures in by the container load and are so excited when these solid Mahogany pieces arrive!
Sunpan

SUNPAN is a fast growing global furniture company specializing in the design and manufacturing of transitional and contemporary furnishings. They are committed to understanding fashion and design in order to offer a diverse selection of high-end looks at affordable prices. Their products are thoughtfully designed and crafted with renowned international designers to create modern and transitional styles across hard goods, dining, upholstery and art. The use of various mixed materials creates a unique and versatile line of products suitable for both contract and residential settings!
Noir Furniturela

We love the drama that Noir Furniterala brings with every single piece. The Lead Designer, Swiss-born Georg Baehler creates every item for Noir the old-fashioned way: with a pencil and paper. Whether wholly original or classically inspired, every Noir product is meticulously designed to scale by Georg's hand. Georg's passionate design regimen is so prolific that Noir's factories have yet to catch pace with him. His inspiration comes from an amalgam of classic furniture design, the craftsmen that bring his pieces to life, and the local materials that are available to work with. By continually playing and experimenting with these three elements, Georg creates the singular Noir vision.
Moe's Home Collection

Whether you're looking to furnish your luxury estate, rural retreat, bite-sized condo, your first home, or your last home, Moe's vast assortment of products bring style, ease & flexibility to modern dwellings, curated environments & contemporary lifestyles.  Polished, timeless, inventive & cool – we promise that you'll always find quality & comfort at Moe's Home.
We are lucky to work with so many wonderful companies who create beautiful and timeless pieces. Contact our furniture team to get your design journey started today! Email furniture@pineridgehollow.com or call 204 777-3881 ext 125!
Below is a full list of all the furniture lines we carry, according to category. 
 LIVING ROOM  
decor-rest.com 
fourhands.com
leefurniture.com
mercana.com
moeshomecollection.com
noirfurniturela.com
sunpan.com
uttermost.com
Bedroom
brambleco.com 
 decor-rest.com
 fourhands.com
 leefurniture.com
 moeshomecollection.com
 noirfurniturela.com
 sunpan.com
LIGHTING
    brambleco.com
generationlighting.com 
hvlgroup.com  
mercana.com
moeshomecollection.com
noirfurniturela.com  
savoyhouse.com  
uttermost.com  
visualcomfort.com

 DINING ROOM 
brambleco.com
canadel.com 
fourhands.com
mercana.com
noirfurniturela.com
sunpan.com
OUTDOOR
brambleco.com
fourhands.com
 leefurniture.com

moeshomecollection.com
 AREA RUGS
annieselke.com/rugs/c/rugs
loloirugs.com
 fourhands.com
 mercana.com
 uttermost.com

WALL ART & MIRRORS 
celadonart.com  
loliorugs.com  
mercana.com
moeshomecollection.com  
streamlineart.com
 uttermost.com

 OFFICE   
 fourhands.com
mercana.com
noirfurniturela.com
sunpan.com
uttermost.com
CABINETS, CONSOLES,  & BOOKSHELVES 
 brambleco.com
 fourhands.com
 mercana.com
 moeshomecollection.com
 noirfurniturela.com
 sunpan.com
 uttermost.com

COFFEE, SOFA,  & END TABLES
brambleco.com  
canadel.com  
fourhands.com  
mercana.com  
noirfurniturela.com  
sunpan.com  
uttermost.com
Design Your Own Furniture: Login Info
CANADEL
WEBSITE: pineridgehollow.udesign.ws
USERNAME: info@pineridgehollow.com
PASSWORD: Furniture1

MERCANA
WEBSITE: mercana.com
 USERNAME: pineridgehollow@mercanaguest.com
 PASSWORD: Pineridge

FOURHANDS
WEBSITE: fourhands.com
 USERNAME: info@pineridgehollow.com
 PASSWORD: pineridge